Unleash the Full Potential of Your Business with WIT 365: A Comprehensive Solution.
In the modern business landscape, having a cutting-edge IT infrastructure is not just an advantage; it's a necessity. The seamless integration of technology can significantly impact your efficiency, productivity, and overall success. Western I.T. Group presents WIT 365, an all-encompassing package that brings together licensed software and unparalleled technical expertise in a single solution. If you're searching for a fully managed IT solution that guarantees streamlined operations, advanced productivity tools, and top-tier technical support, WIT 365 is the answer you've been waiting for.
Why Opt for WIT 365?
WIT 365 isn't just a package; it's a complete transformation of how you handle your Managed IT needs. From troubleshooting common technical glitches to enhancing communication through cloud phone services, WIT 365 offers a comprehensive suite of services that empowers your business to thrive.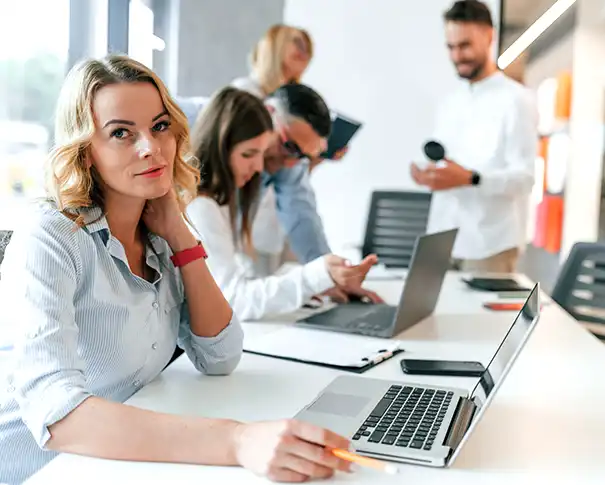 Unparalleled IT Excellence with WIT 365
At Western I.T. Group, we understand that a well- managed IT infrastructure forms the backbone of efficient business operations.
Available from a starting cost of only $150 per month, WIT 365 encompasses: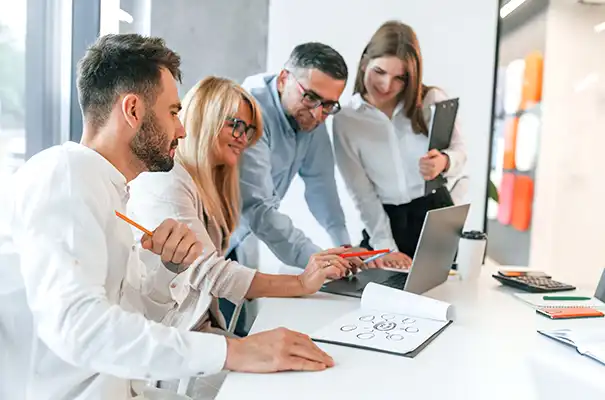 We're here anytime to talk about WIT 365!
Inclusive Microsoft 365
WIT 365 provides you with full access to Microsoft 365, the quintessential productivity suite designed specifically for businesses. The licensing fees are seamlessly integrated into the package, removing any financial concerns. With essential tools like Outlook, Word, Excel, PowerPoint, and OneNote, Microsoft 365 ensures you're equipped to create, collaborate, and communicate efficiently. Whether you're at your office desk or on the move, Microsoft 365 ensures that your productivity knows no bounds.
Efficient Cloud Phone Services - WIT Comm
Seamlessly stay connected and enhance communication with WIT Comm, our advanced cloud phone services. This ground-breaking Voice Over Internet Phone (VOIP) solution enables you to make calls over the internet, revolutionizing the conventional phone system. WIT Comm not only facilitates connectivity but also adapts as your business grows, guaranteeing cost savings. Administrative tasks, system upgrades, and more are expertly managed by us, freeing your time for more strategic endeavors.
Unlimited IT Support
Bid farewell to IT worries with our comprehensive support services. WIT 365 ensures you have unlimited round-the-clock IT support, complete with the option for on-site assistance when required. Our dedicated team of experts is at your disposal, ensuring a seamless Microsoft 365 experience. As an esteemed Microsoft partner, we provide you access to knowledgeable professionals who can adeptly navigate any technical challenge.
Antivirus & Malware Protection
In today's digital landscape, security is not just an option; it's a necessity. Western I.T. Group presents an essential layer of protection for your business with advanced Antivirus & Malware Protection, an integral component of our comprehensive WIT 365 package. Say goodbye to worries about malware, ransomware, and malicious software – with WIT 365, your business is armed with a three-pronged defense against potential threats.
Managed Business Continuity
In the modern business landscape, disruptions are no longer exceptions – they are possibilities that demand preparedness. Western I.T. Group introduces Managed Business Continuity as a fundamental feature of the comprehensive WIT 365 package. With this proactive approach, your organization gains the ability to operate seamlessly even in the face of disasters, ensuring business continuity and minimizing downtime.
Centralized Collaboration
In today's interconnected business landscape, collaboration is the cornerstone of success. Western I.T. Group introduces a cutting-edge solution that not only connects your employees and executives but also streamlines your business operations for heightened efficiency. Welcome to Centralized Collaboration, a pivotal feature of the WIT 365 package that brings your entire organization together, regardless of geographical boundaries.
Seize the Future with WIT 365.
Empower your business by embracing WIT 365 and its fully managed IT solution. No more juggling between multiple bills and services – WIT 365 seamlessly integrates everything for your convenience.
Contact us today to unlock the future with WIT 365 and redefine your IT experience.
Frequently Asked Questions
Here are some questions that people often ask about our services. If you can't find an answer to your question just Send Us A Message and we'd be happy to answer it.
What is WIT 365?
WIT 365 is a comprehensive and fully managed IT solution offered by Western I.T. Group. It brings together licensed software, advanced technical support, and cloud phone services under one convenient package.
What services are included in WIT 365?
WIT 365 includes full access to Microsoft 365, cloud phone services through WIT Comm, and unlimited 24/7 IT support. It ensures that your business stays productive, connected, and efficient.
Is WIT 365 suitable for small businesses?
Absolutely! WIT 365 caters to businesses of all sizes, ensuring that you have the necessary tools and support to drive your business forward.
Can I customize WIT 365 according to my business needs?
Yes, you can. We understand that each business is unique. Contact our experts to discuss your specific requirements and tailor the WIT 365 package accordingly.
How does WIT 365 enhance my business operations?
 WIT 365 enhances your business by providing advanced technological solutions, streamlined communication, expert technical support, and access to the powerful Microsoft 365 suite. This translates to increased productivity, improved efficiency, and seamless growth.
What makes Western I.T. Group's expertise stand out?
With a rich history of providing IT solutions in Ontario, Western I.T. Group boasts a team of Microsoft-certified professionals dedicated to ensuring your business experiences the full potential of modern technology. Our expertise, experience, and customer-centric approach set us apart.