Empowering Your Business with Unparalleled IT Support.
24/7 IT Support. When it comes to running a successful business, smooth and efficient IT operations are non-negotiable. However, the world of technology can be complex and unpredictable, often leading to unexpected issues and challenges. This is where Western I.T. Group's WIT Support Plus steps in – offering you a comprehensive solution that ensures your technology is your ally, not a hindrance.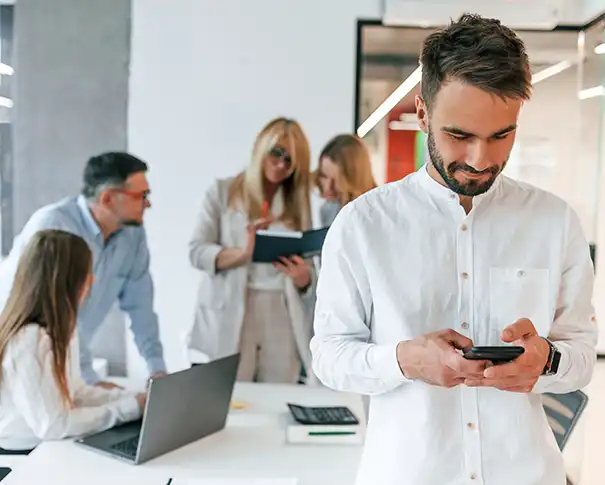 We're here anytime to talk about WIT Support Plus!
Unlimited IT Support for Unrestricted Growth
At the core of WIT Support Plus is the promise of 24/7 IT Support. Imagine a scenario where your employees have a technical issue, regardless of the time – our team of experts is available around the clock to provide the assistance you need. Whether it's a minor glitch or a major concern, day or night, our dedicated support staff is just a call away.
Seamless Transition and Onboarding
Moving your business's IT infrastructure can be a daunting task, often accompanied by concerns about data loss and downtime. With WIT Support Plus, you can put these worries to rest. Our package includes migration assistance during the onboarding process. Moreover, we offer a free consultation before setup to ensure we understand your specific IT and security needs, guaranteeing a smooth transition without disruptions.
Comprehensive Technical IT Support
Your technology should empower your business, not slow it down. This is the driving philosophy behind WIT Support Plus. Our technical support staff, comprised of knowledgeable experts, is dedicated to providing prompt and reliable assistance for any technical issue or question you may have. Say goodbye to waiting endlessly for solutions – we're committed to resolving your IT concerns efficiently so you can focus on what truly matters – growing your business.
Stay Informed with Regular Reporting and Updates
Transparency and visibility into your IT environment are crucial for informed decision-making. With WIT Support Plus, you're not left in the dark. We continuously monitor your server, identifying vulnerabilities, outdated patches, and ensuring the overall cleanliness of your systems. At the end of each month, you'll receive a detailed report summarizing everything that transpired with your server. Critical updates and future security considerations are also part of our proactive approach.
A Comprehensive Solution for All Your IT Needs
WIT Support Plus isn't just about IT support – it's a comprehensive solution to fortify your business's IT infrastructure. Alongside unlimited technical assistance, this package includes Tier 1 Help Desk Support from 8:30 am to 5:00 pm, unlimited Tier 3 Remote 24/7 IT Support , end-point antivirus protection, cloud backup services, and cyber attack remediation. In other words, it covers all bases to ensure your business's IT resilience.
Elevate Your Business with WIT Support Plus
Discover the peace of mind that comes with uninterrupted, expert-level IT support with WIT Support Plus. Say goodbye to IT-related stress, limited support hours, and unaddressed technical issues. With this package, Western I.T. Group is your trusted partner, ensuring your technology empowers rather than hampers your business's growth.
Ready to Elevate Your IT Support?
Contact Western I.T. Group today to explore how WIT Support Plus can transform your business's IT landscape. Let us pave the way for your business's success by providing the IT support it truly deserves.
Frequently Asked Questions
Here are some questions that people often ask about our services. If you can't find an answer to your question just Send Us A Message and we'd be happy to answer it.
What is WIT Support Plus?
WIT Support Plus is a comprehensive IT support package offered by Western I.T. Group, providing unlimited IT support, technical assistance, reporting, and proactive updates for businesses.
What are the benefits of WIT Support Plus?
WIT Support Plus ensures your business has access to unlimited IT support, day and night, with comprehensive technical assistance from experts. It also offers reporting, monitoring, and regular updates to keep your IT environment optimized.
How does WIT Support Plus handle server vulnerabilities and updates?
WIT Support Plus includes continuous monitoring of your server for vulnerabilities and outdated patches. Critical updates and security considerations are applied, and a monthly report detailing server activities is provided.
What additional services are included in WIT Support Plus?
In addition to unlimited IT support and technical assistance, WIT Support Plus includes Tier 1 Help Desk Support during business hours, Tier 3 Remote Support 24/7, end-point antivirus protection, cloud backup services, and cyber attack remediation.
How can WIT Support Plus benefit my business?
WIT Support Plus ensures uninterrupted technical support, enhanced security, proactive updates, and comprehensive services that empower your business's IT infrastructure for seamless growth and operations.