Empowering Your Business with Custom Software Solutions.
In the dynamic landscape of modern business, off-the-shelf software often falls short in meeting specific needs. Welcome to WITConstruct, where we don't just develop software – we engineer tailored solutions to propel your business forward.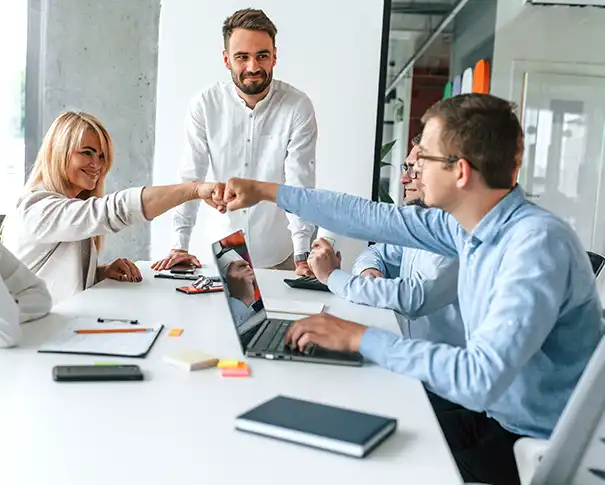 A Multitude of Applications
Our expertise extends to diverse application domains.
Let's talk about WIT Construct!
Web Applications: From e-commerce platforms to customer portals, we craft web applications that scale and adapt seamlessly.
Mobile Applications: Leverage the power of mobile with apps that offer optimal user experiences and cross-device compatibility.
Desktop Applications: For tasks requiring local processing power and robust functionality, our desktop applications deliver.
Hybrid Applications: Combining the best of web and mobile, hybrids offer the flexibility of deployment across platforms.
Industry-Specific Solutions: We understand your industry's nuances, and our solutions are tailored to cater to these specific needs.
Progressive Web Applications: Stay ahead with web apps that harness the latest web technologies, ensuring high performance and user engagement.
Crafting Tailored Solutions
At WIT Construct, we pride ourselves on our team of skilled software developers who possess the prowess to engineer and program fully customized solutions. No matter your business's complexities or unique requirements, we create software that aligns perfectly with your needs.
Partnering for Success
Partnering with WIT Construct means collaborating with professionals who genuinely understand your business needs. We communicate with clarity, involve you in the development process, and provide solutions that align with your vision.
Seamless Integration, Robust Performance
Our in-house software engineering talent ensures seamless integration with your existing systems and guarantees robust performance. We adhere to best practices in development, quality assurance, and user experience design to deliver nothing short of excellence.
Enhance Efficiency, Gain Competitiveness
The software we develop doesn't just fulfill requirements; it transforms operations. With our solutions, your business can:
Increase Efficiency: Automate repetitive tasks, streamline processes, and reduce manual errors.
Boost Competitiveness: Custom software can give you a unique edge, aligning perfectly with your business strategy.
Improved Customer Experience: Tailored applications can enhance user experience, leading to higher satisfaction and loyalty.
Elevate Your Business Today
Discover the power of tailor-made software solutions with WIT Construct. Empower your business with applications that not only meet your requirements but also drive growth and innovation. Contact us today to start your journey towards enhanced efficiency and competitiveness.
Frequently Asked Questions
Here are some questions that people often ask about our services. If you can't find an answer to your question just Send Us A Message and we'd be happy to answer it.
What industries does WIT Construct cater to?
WIT Construct specializes in creating software solutions across a wide range of industries, tailoring them to meet specific business needs.
How does custom software enhance efficiency?
Custom software streamlines processes, automates tasks, and reduces manual errors, leading to increased operational efficiency.
Can WIT Construct integrate with existing systems?
Yes, our in-house software engineers ensure seamless integration with your existing systems, ensuring a cohesive IT ecosystem.
How does custom software improve customer experience?
Custom software can be designed with user experience in mind, leading to applications that are intuitive, user-friendly, and enhance customer satisfaction.
How involved will I be in the development process?
At WIT Construct, we believe in transparent collaboration. We involve you in the development process to ensure the final product aligns with your vision and needs.