Revolutionizing Communication with VOIP Phone Services.
We are providing the best VOIP Phone Services in Canada, With the ever-evolving technological landscape, Voice over Internet Protocol (VOIP) services have emerged as a game-changer for businesses. WIT Comm leverages VOIP services to offer you more than just a traditional phone system replacement. It brings you a host of advantages, including scalability, enhanced features, and significant cost savings. Upgrade to WIT Comm today and experience the future of business communication.
In today's fast-paced business landscape, seamless and reliable communication is the backbone of productivity. Traditional phone systems often come with limitations and hefty costs, making it essential for businesses to explore innovative solutions. That's where Western I.T. Group's WIT Comm steps in – a modern, flexible, and cost-effective solution that empowers your business's communication needs.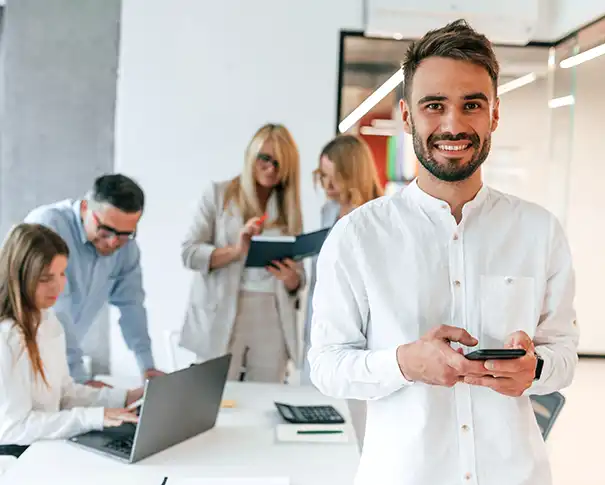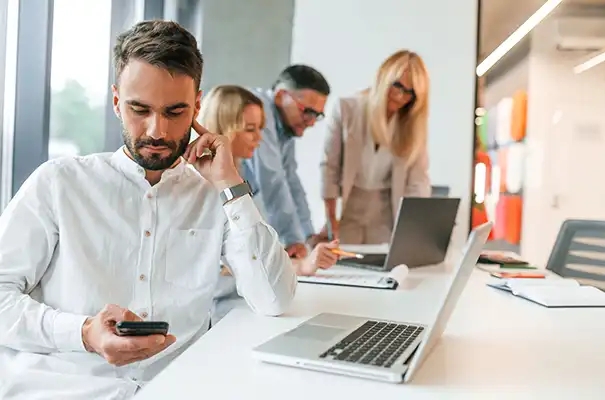 Let's Talk About WIT Comm!
Empowering Your Communication with Features.
Our WIT Comm VOIP services are packed with features that enhance your communication experience:
Unlimited users: Connect your entire team without constraints.
Unlimited calls in North America: Say goodbye to call restrictions.
Hosted voice service: Enjoy a hassle-free communication platform.
Unlimited multi-level auto attendant: Streamline call routing.
Phone number: Establish a professional identity.
Call log reports: Gain insights for optimization.
Call recording: Capture important conversations.
Conferencing: Collaborate seamlessly.
Voicemail: Never miss a message.
Unlimited Connectivity, Unlimited Possibilities
Imagine a communication system that transcends geographical boundaries, allowing you to make calls and stay connected over the internet. With WIT Comm, that vision becomes a reality. Our Voice Over Internet Phone (VOIP) services liberate you from the constraints of traditional phone systems. Whether your team is in the same office or scattered across the world, connectivity is never compromised.
Tailored Flexibility to Grow with Your Business
At Western I.T. Group, we understand that your business is dynamic. That's why our WIT Comm VOIP services offer the flexibility to grow alongside your business. From startups to enterprises, our solution is designed to scale according to your communication needs, saving you money and streamlining your operations.
Easy Implementation, Managed Excellence
Switching to our WIT Comm VOIP services is a breeze. Our team takes care of administration, moves, adds, changes, and system upgrades. No need to purchase expensive equipment. With our secure facility, we create a tailored solution that fits your unique needs. Our technical staff assists with network infrastructure, equipment customization, installation, and training, ensuring a smooth transition to modern communication.
Combine Packages, Tailored for You
Western I.T. Group understands that businesses have diverse communication needs. That's why our packages are designed to be flexible. Whether you require basic services or want to empower your communication with additional features, our packages can be mixed and matched to align with your company's requirements.
Affordable Excellence, Starting from $20/user
Quality communication shouldn't break the bank. Our monthly packages are priced per user, per month, and come with comprehensive phone support. Starting as low as $20/user, you can elevate your communication without compromising your budget.
Experience the Future of Communication
With WIT Comm, you're not just making calls – you're revolutionizing your communication strategy. Embrace the power of VOIP services that transcend limitations, empower collaboration, and fuel your business's growth.
Contact Us Today to Empower Your Communication
Experience the future of communication with Western I.T. Group's WIT Comm VOIP services. Contact us today to learn how we can customize a communication solution that aligns with your business's needs, enhances productivity, and propels your success.
Frequently Asked Questions
Here are some questions that people often ask about our services. If you can't find an answer to your question just Send Us A Message and we'd be happy to answer it.
What is VOIP?
VOIP stands for Voice Over Internet Protocol. It is a technology that allows voice communication and multimedia sessions to be transmitted over the internet.
How does WIT Comm VOIP compare to traditional phone systems?
WIT Comm VOIP offers greater flexibility, cost-effectiveness, and scalability compared to traditional phone systems. It allows users to make calls over the internet, eliminating geographical restrictions.
Can WIT Comm VOIP services be customized for specific business needs?
Yes, WIT Comm VOIP services can be tailored to fit the communication needs of each business. Packages can be customized with various features based on the business's requirements.
How does WIT Comm support businesses during the transition to VOIP?
WIT Comm provides comprehensive support during the transition, including administration, system upgrades, equipment customization, and training. Their technical staff ensures a seamless shift to modern communication.
What are the benefits of VOIP for businesses?
VOIP offers benefits such as cost savings, scalability, remote communication capabilities, advanced features, and the ability to integrate with other business applications.