Revolutionizing Communication VOIP Services. In today's fast-paced business world, effective communication is vital for success. However, traditional phone systems can hamper productivity due to their limitations and high costs. That's where WIT Comm steps in with a modern, flexible, and cost-effective Voice Over Internet Phone (VOIP) solution that empowers your business's communication needs.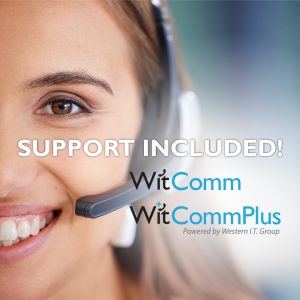 Enhancing Communication with Features
WIT Comm's VOIP services are feature-rich, and designed to elevate your communication experience. These features include:
Unlimited Users: Connect your entire team effortlessly.
Unlimited North American Calls: Say goodbye to call restrictions.
Hosted Voice Service: Enjoy hassle-free communication.
Multi-level Auto Attendant: Simplify call routing.
Phone Number: Create a professional identity.
Call Log Reports: Obtain insights for optimization.
Call Recording: Capture important conversations.
Conferencing: Collaborate seamlessly.
Voicemail: Ensure you never miss a message.
Seamless Connectivity, Endless Possibilities
WIT Comm provides a communication system that enables you to make internet-based calls without geographic limitations. With our VOIP services, break free from traditional phone system constraints. Whether your team operates from a single location or is spread worldwide, our services ensure seamless connectivity.
Tailored Flexibility to Match Your Business's Growth
At Western I.T. Group, we understand that your business is ever-evolving. That's why our WIT Comm VOIP services offer adaptability to grow with your business. Whether a startup or a well-established enterprise, our solution caters to your communication needs, saving you money and streamlining your operations.
Effortless Implementation, Professional Management
Switching to WIT Comm VOIP services is simple. Our team handles administration, moves, adds, changes, and system upgrades. There is no need to invest in costly equipment. With our secure facility, we create a tailored solution to fit your unique needs. Our technical staff assists with network infrastructure, equipment customization, installation, and training, ensuring a smooth transition to modern communication.
Revolutionizing Communication VOIP Services
Customizable Packages Tailored to You
We understand that every business has different communication needs. That's why we have different options that can be changed to suit what you need. If you just need basic services or if you want extra things to help you communicate, we can adjust our options to fit what you need. Also, we are very proud of the great customer service we provide to make sure you have a good experience with us.
Affordable Excellence, Starting at $20/user
Quality communication shouldn't strain your budget. Our monthly packages are priced per user, per month, and include comprehensive phone support, starting at just $20/user. Elevate your communication without breaking the bank.
Experience the Future of Communication
At WIT Comm, we offer communication services that go beyond traditional calling. Our services use VOIP technology to help you communicate better, collaborate easily and grow your business. We offer affordable and excellent communication solutions. Contact us today to learn more and start your communication journey with us.
Revolutionizing Communication VOIP Services By Western I.T. Group is the best choice for your business communication.